AMBF Couple Q & A: Hannah and Minh
How did you meet?
Hannah: We didn't start dating until we were a little older, but Minh and I actually met when we were really young. We met in a 10th grade World History class. I sat at the back of the room, and Minh sat towards the front near the teacher. I proudly wore my Pokemon and anime clothing , so everyone knew that I was a huge nerd. Minh would approach me every day asking me how the weather was outside, and show me a new Pokemon picture that he drew. I would always shrug him off and tell them that I hadn't been outside today because all of my classes were inside the school building, compliment his picture, and tell him to go back to his seat because class was starting soon. I had a hard time understanding him because his accent was so thick. We would always be in the same group together for projects, and Minh would frequently embarrass me by insinuating who I had a crush on in class. I'm not going to lie, I couldn't wait until the end of the year when classes changed because I hated our daily ritual.
However, in 12th grade one morning he came to my locker to give me a Pikachu picture. I expected this picture to be like the ones he had given me in the past, but to my surprise, underneath the tail he had written, "Prom?" I was thrown off guard because I thought he hated me, so I asked for his number to give him a response later on. I talked with all my girlfriends while showing his picture and telling them about our history together.
I finally realized that all of those awkward conversations and embarrassing moments was because he liked me! I had very low expectations, but I decided to just give him a chance because I wasn't planning on going to prom anyway, and I'd at least get a free meal out of it. It's been 7 years now and we just got engaged!
Minh: When we had history class together back in 10th grade. At the time, I was pretty lonely and wanted to have more friends in life. Hannah was particularly beautiful and smart in class. She was also big into Japanese culture so that made me want to be her friend. At the time, I was really into drawing anime characters. Every time I draw a new character, I would show it to Hannah. I would look forward to impressing her and win her over. We lost contact after the school year ended. We didn't have any classes together. As prom was quickly approaching, I ended up asking her out to prom with a Pokemon drawing.
What did you do on your first date?
Hannah: We went to the mall to look for a tie to match my prom dress. It was a little bit of a disaster. I was Minh's first girlfriend, so he didn't really know how to talk to a girl. He ended up ticking me off by something he said, and I almost called off the whole prom situation. However, once he knew how he was making me feel he apologized and expressed to me that he wanted to improve to be able to take me to prom.
Minh: Our first official date was going to the mall to hangout. We went to the theater to watch a movie and then walk around the mall after. While sitting in the theater, I wanted to hold her hand and be close like couples in the movies. However, I was very new to dating and didn't know how to make a move to do all of that. When the movie ended, we walked around the mall. At one point, I made a very inconsiderate comment that really ticked off Hannah. She was upset with me. I had to apologize for my misconduct and she accepted and gave me a second chance.
What was it like to tell your friends and family about meeting someone from a different culture?
Hannah: It was crazy. When news got around our school about us going to prom together and possibly dating, people started coming out of the woodwork. People I had only talked to once, or people I didn't even know started coming up to me to ask what was going on. We had been one of the few AMBW couples in our high school apparently, so it was a big topic of conversation. Half of my friends were telling me to run for the hills because he would bring down my reputation, the other half of my friends were saying to give him a chance. I'm glad that I listened to the latter. My family was skeptical at first as well, but they weren't really surprised because I have had crushes on Asian boys since kindergarten.
Minh: Having to tell my friends was fairly easy. They teased me for being with someone that isn't Asian. However, they were supportive of me. My parents were quite difficult to get to. They didn't want me to date while I was in school. They were more upset that I was seeing someone that isn't Asian.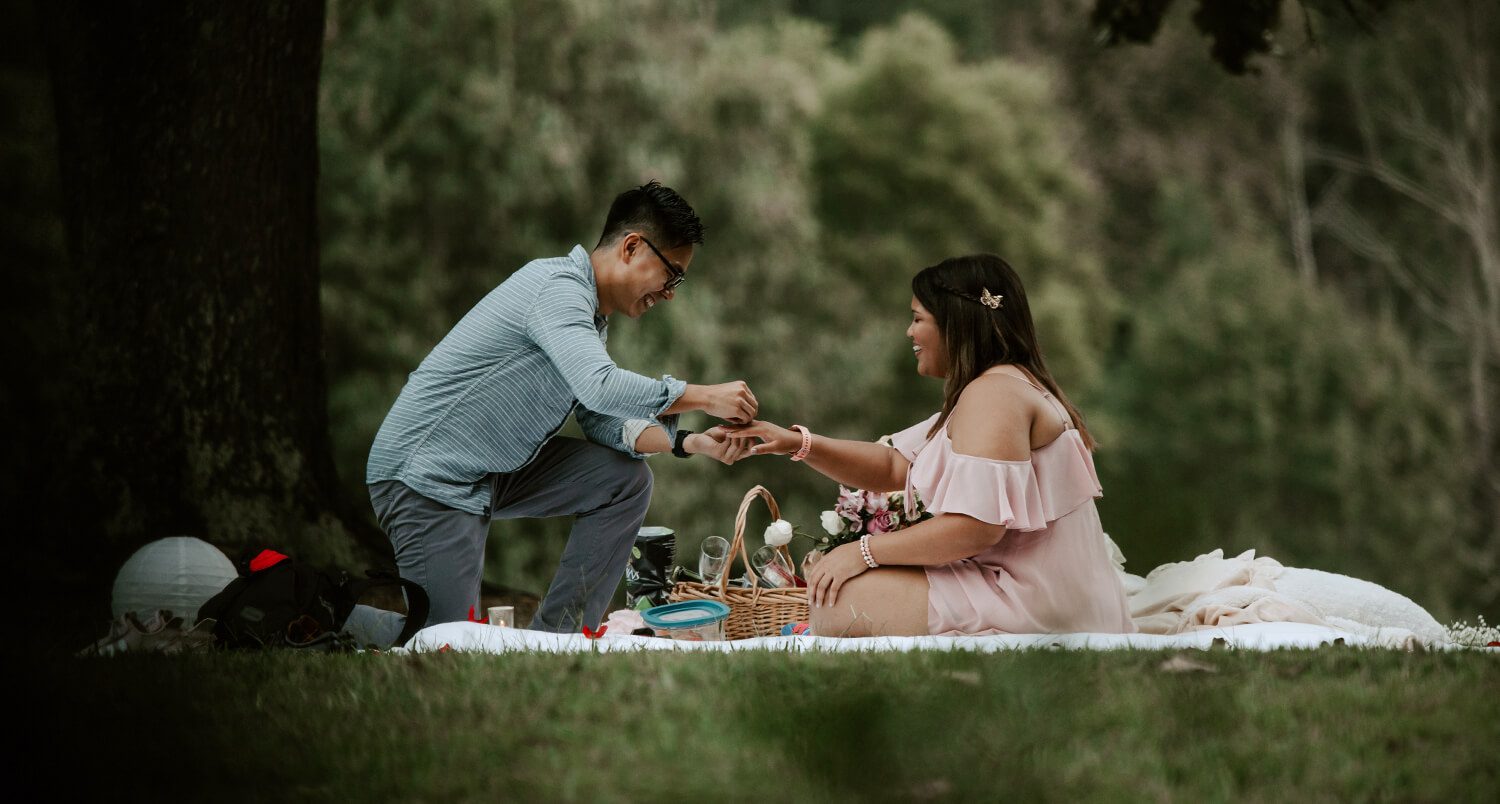 Have you each learned how to cook each other's culture's cuisine?
Hannah: Unfortunately, I'm not really good at cooking. I have a couple of family recipes that I know how to make, but I rarely cook. Minh and I have an arrangement where he cooks and I clean up afterwards. As far as Vietnamese cuisine, I know how to make basic things like spring rolls and congee, but Minh pretty much takes care of the cooking.
Minh: I learned to cook as I was going to college. Having roommates that are American gives me the opportunity to learn to make American food. So all the meals that I know how to make are through college, not because of Hannah.
Did you have any difficulties integrating your families into each other's lives?
Hannah: My family had a little trouble at first with Minh because of our religious differences, but they have looked past that to love him and consider him family now. His grandmother and most of the family accept me and love to introduce me to Vietnamese culture, but his parents still haven't. They wanted him to marry a Vietnamese girl. He's the first son of the first son, so he's in line to be in charge of all of the family's affairs in the United States and Vietnam. Basically, I'm threatening that and would be tainting the blood line. Minh and I have established clear boundaries with them and have made our views on the matter clear. It's basically all up to time now, I guess.
Minh:My family comes from a little village in Vietnam. We grew up there and have a very different way of thinking. So for me to have a girlfriend that is not a Vietnamese was quite hard for them to deal with. When I first introduced Hannah to them for prom, they were certainly not happy. They told me to find another girl or to just go by myself. I disobeyed them and went ahead and took Hannah to prom. As time passes, my mom became more aggressive with separating the two of us. I always had to hide the fact that I was dating Hannah. My mom would threaten me about her being disappointed in me if I were to date Hannah. That if I date Hannah, then she would have a heart attack and die. My maternal grandmother on the other hand was very accepting. She wanted me to think about what I was doing at first. But after having to get to know Hannah, she was able to think clearly that I would end up with Hannah.
Were you always interested in dating someone from a different culture?
Hannah: I have always been interested in dating someone from another culture. From a young age, I have always been interested in learning about the customs, food, and languages of other cultures. I loved when I got to see the different food people would bring from home for lunch and was always eager to try it. I also knew that I wanted my future kids to be bilingual and have two cultures, so I would try to date people from different cultures.
Minh: As I grew up, I wanted to date a Japanese girl. I was obsessed with Japanese culture because of all the anime I watched and all the manga I read. My goal was to date a Japanese girl and learn some Japanese. I didn't see myself ever being with a Vietnamese girl since I didn't really like hanging out with Vietnamese. Although I wanted to be with a Japanese girl, I never met any throughout school. I always thought that mixed girls were the best looking ones, especially black and white.
Do you want to visit the country your partner is from and if you have, what was it like?
Hannah: I would love to visit Vietnam. We actually have plans to visit in 2020 so that I can see where he grew up and meet the people he has told me about during his childhood. I can't wait.
Minh: I live here now 🙂
What were the things you had to adapt to, while dating someone from a different culture?
Hannah: I definitely had to adapt to how Vietnamese culture is. I was raised to speak my mind, express what I'm feeling, and to always be able to take care of myself. However, in Vietnamese culture I was told that it's expected for the children to apologize and listen to what the parents say about everything, even if what the parents are doing is wrong. Because of that, Minh didn't really know how to express himself or tell me how he was feeling. Minh was also raised to believe that he had to be the breadwinner, and that the wife would be responsible mostly for taking care of the kids and making sure the husband was happy.
In the beginning I had to explain that I will absolutely have a large part of my future child's life and happiness of our family, but that I will not be tied down to anyone's expectations of me because I have my own aspirations and goals to achieve in life. Since then, we've been on the same page and working towards our dreams together.
Minh: One of the things that I had to learn being with Hannah was the ability to express my feelings. She grew up expressing how she feels. As I grew up, my parents don't really listen to what I have to say or invalidate my feelings. Things were very one sided and so I learnt to keep my mouth shut. When being with Hannah, she wants to know when I like or dislike something. Not showing my emotions is a no no. She made it a point for me to tell her things whenever I feel something is off. This is quite challenging but it made both of us so much stronger.
Who wins most arguments in your relationship?
Hannah: Haha, most definitely me. I have a motor mouth when I'm mad so I have to remember to practice patience and take a breath sometimes.
Minh: Me being the most generous, I would let Hannah win arguments. At the end of the day, a happy wife is a happy life.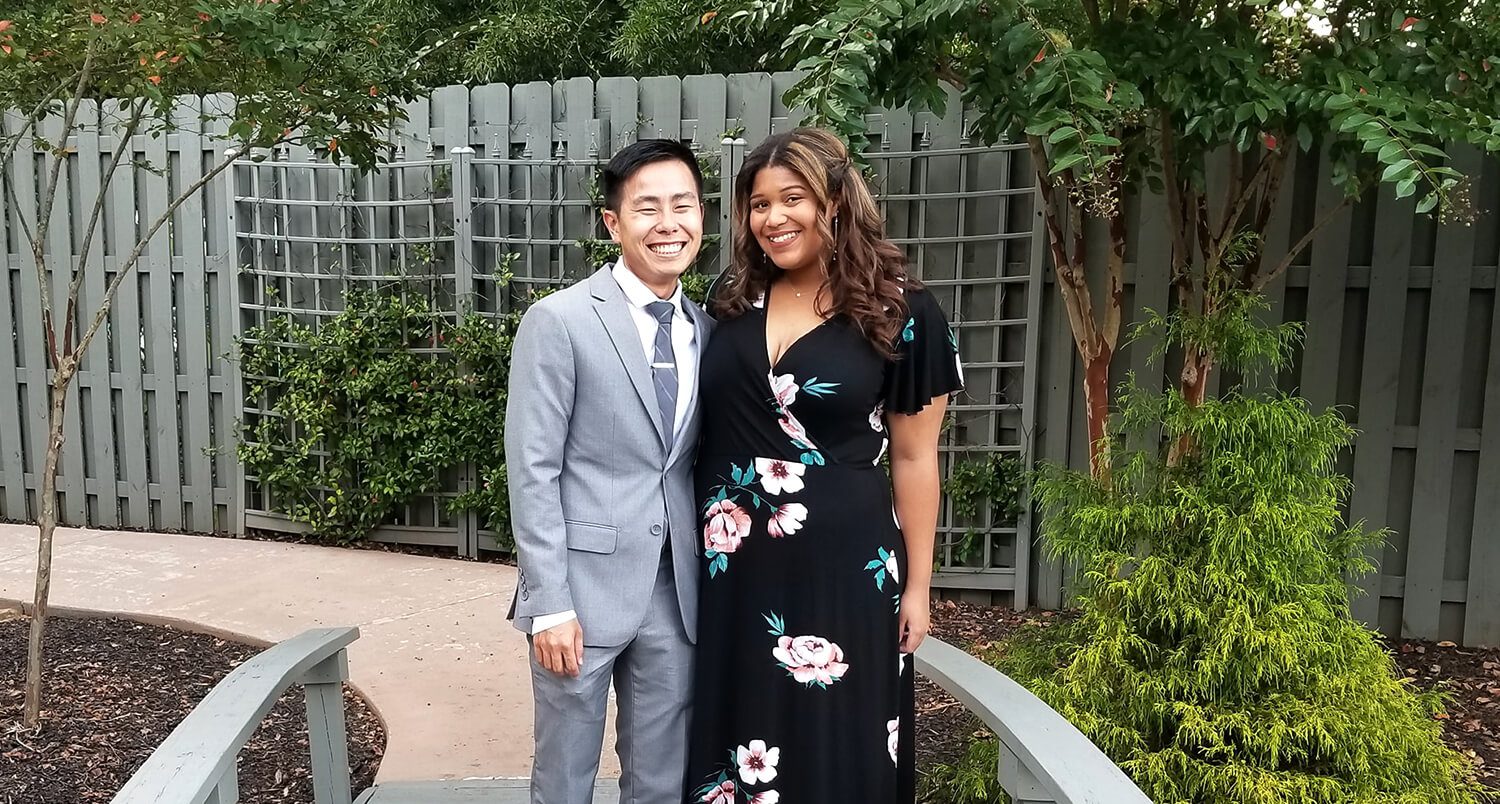 What is your dream vacation together?
Hannah: Japan! I stayed there for a month, and the whole time I was thinking of how much Minh would love it there. Hopefully that's on our travel list for the future!
Minh: Definitely Japan. The both of us are obsessed over Japanese culture and how beautiful the country is. It has always been my goal to go there since I was little.
What is the sweetest/cutest thing about your partner?
Hannah: Even though it's been 7 years, he still gets nervous when he does cute things for me. I can tell when he's about to do something because he starts shaking uncontrollably, can't speak English, and he can't look at me in the eyes. It's the sweetest thing that I have ever seen and it makes me happy to know that he loves me so much that he physically can't control it.
Minh: She is the cutest whenever she laughs too hard to the point of not having any sound. Sometimes she would hear me fart while using the bathroom and she just starts laughing. Then I start to laugh. She laughs even more because I started to laugh and snowball until we are both dying.
Minh and Hannah are a couple from Atlanta, Georgia that have been together for 7 years, and have recently gotten engaged. Hannah is currently working as a Nephrology nurse while developing her Instagram and YouTube Channel. Minh is working as a software engineer and likes to make games in his free time; his most recent one available on the Google Play store is Temple Tumble. Through trials and strains put on their relationship, they have grown strong over time and are working on building a life together with their puppy Willow. They are both anime nerds and love to watch Chinese dramas together, but the thing that they both love the most is food.
If you would like to participate in a Q&A on our site, please contact us at hello@greenteacoffeedate.com.
*The above post is owned by Green Tea and Coffee and may not be republished or copied without consent from us.
Tags:
ambf
ambw
dating
interracial
love story
relationships
romance