AMWF Couple Q & A: Elyse and Allen
How did you meet?
Elyse: In 2012, geek culture was starting to come out of the underground in my city and the first Comic Expo Convention was organized and to be held in October that year. Allen who always created art, signed up for an artists table at the Expo. The same weekend of the Expo, I had gone on absolutely terrible first date and was so mad that I had wasted my time when I could have checked out the Expo instead. So on the last day of the Expo, a Sunday in October, I went. Walking around the artist alley, minding my own business, I locked eyes with an artist who had the coolest hair. All Allen had to say was "Hi" and I was smitten (although at the time I never would have admitted it). He nervously introduced himself, made conversation about art and then asked if I had a Deviant Art account (online art community) to get my contact information without seeming too forward. I gave him my info and Allen gave me one of his art prints for free. Honestly, it was love at first sight for me, but I wouldn't believe it at the time. That evening, I wrote on my Deviant art page for the first time in ages about my experience at the Expo, complete with a comment on Allen. Allen contacted me that same evening, we conversed online and finally exchanged numbers. We have been together for the past 6.5 years ever since!
Allen: To expand on Elyse's story, the first time I talked to her at my table was intimidating. When I looked into her eyes and said "Hi" for the first time, I immediately went into thinking about how I would be able to contact her and the best way to NOT sound like I just wanted to get her number. I tried a very methodical approach, I saw her looking at my artwork so I tried to make small talk by asking her if she did art, thankfully she said yes. So I asked if she had a Deviant Art account. I knew this was just going to be down to pure luck. So I took that leap of faith, and turns out that was the luckiest day of my life.
What did you do on your first date?
Elyse: It was late October and we went out for Japanese food. I drove to meet Allen at the restaurant as we lived on opposite sides of the city. I had never been to the restaurant before and I remember getting a bit lost and to make matters worse it started to snow that night. I finally made it to the restaurant and we ordered some sushi to share. I remember being a touch nervous at first but quickly got over it. Our conversation was relaxed and flowed pretty naturally. We were eating sushi rolls and I remember Allen asking me if I was a bit obsessive-compulsive. I said "No, not really" as he pointed to the rolls on the plate. I had subconsciously eaten every second piece in order for it to be evenly spaced out on the plate! We both laughed. We didn't want the evening to end, so I suggested to see a late night movie after dinner and we went to see "Frankenweenie" since we both liked animated movies. Before we parted ways, Allen hugged me in a tight, protective hug. He gave me a metal, circular token with the words "Good for one wish" on it and told me that I could redeem it at any time. Honestly I thought the token was really just a ploy for him to see me again, as I am not really into cheesy tokens of affection. But it was already too late, I liked him too much already.
Allen: What my wife said, but leading up to it, I had wanted to bring a present for her on our first date. So I decided to draw her a picture since we met at my booth during the Comic Expo. I wanted to give her something that was my interpretation of her. So I drew a portrait of one of her pictures I found on Deviant Art. I remember staying up late to work on it. I didn't go to bed till I finished. After our dinner, I gave her the present as a surprise in the parking lot.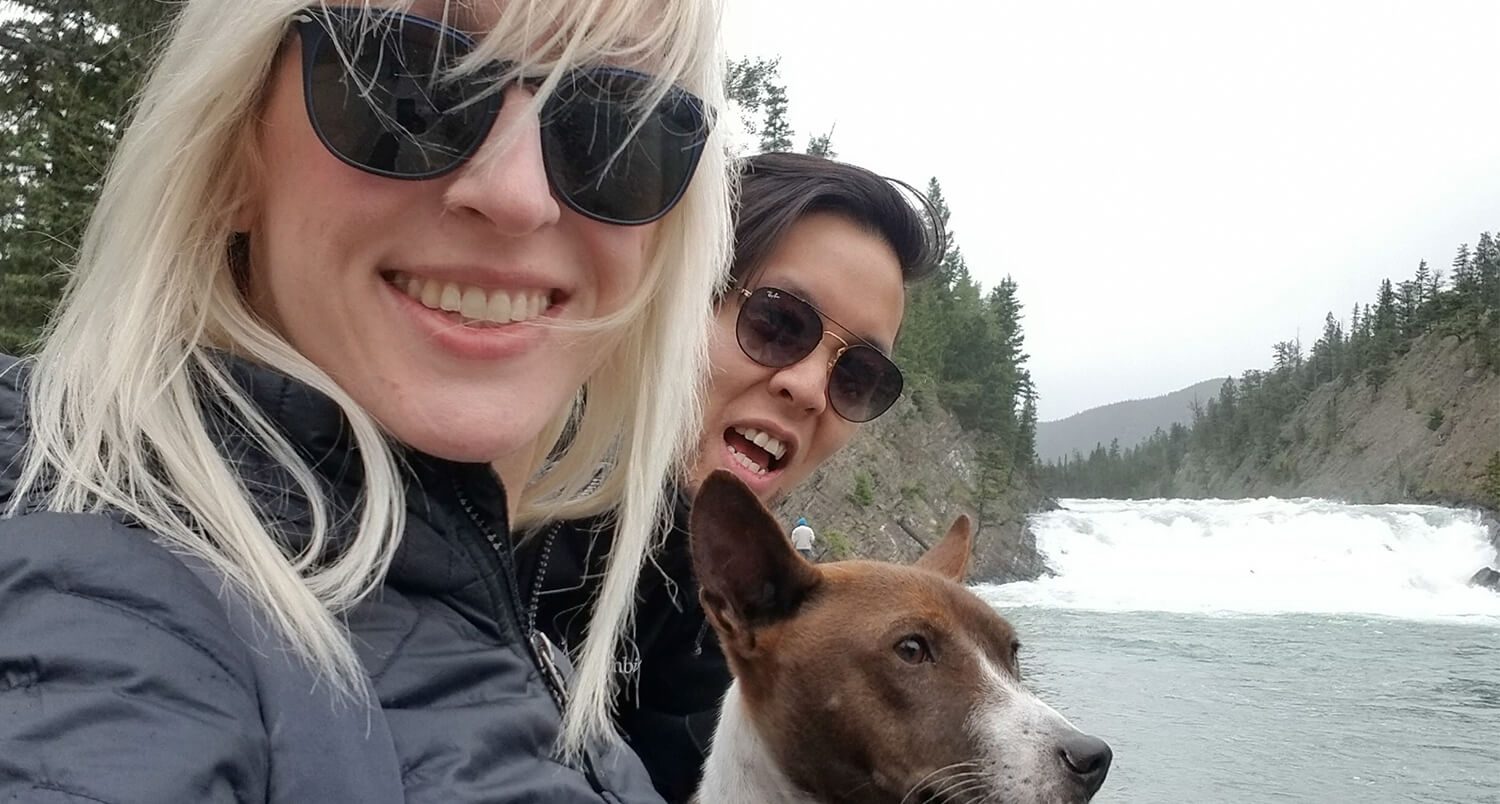 Did you have any difficulties integrating your families into each other's lives?
Elyse: No. Not particularly, it is still a bit of a struggle for my Mom and Allen's parents to relate, as their interests are vastly different and Allen's parents are not entirely fluent in English. But when they do get together it's usually around the dinner table.
Allen: I feel that over the years my parents English has improved quite a bit so they have a pretty good understanding of Elyse's mom when she talks to them. But I don't know if thats because Elyse's mom is trying to simplify her communication bit so they can understand her better? But for the most part it's still very early for us to see how much integration will happen because we just moved to a house and there are plans to have family gatherings during holidays. But I don't really feel it's been difficult. I am fortunate enough to be able to translate if needed for my parents so I guess I have that.
Have you each learned how to cook each other's culture's cuisine?
Elyse: No. I do love traditional Chinese food, but Allen is a much better cook than I am, so typically he is in charge of cooking at home, I'm his sous chef and help where I can. Allen has a great interest in creating when he cooks, he can cook a multitude of cuisines not only traditional Chinese dishes and adds his own influence into a recipe. Rarely do his recipes not taste good, but I'm not afraid to tell him my opinion on what could be improved. I think we make a good team that way, because we mutually accept one another's constructive criticism. Honestly I prefer to bake, which isn't Allen's forte. We each have our own strengths.
Allen: Funny enough, I have not learned any German dishes yet… LOL I would love to. I enjoy cooking and i love learning new dishes, trying out new recipes. But to answer the question, no LOL.
What was it like to tell your friends and family about meeting someone from a different culture?
Elyse: There was no hesitance from my family, as I had a couple different Asian boyfriends before Allen.
Allen: They had no say. I know my Grandma always wanted me to date someone from the same culture, my parents I think secretly did too but they never voiced it. Too bad for them, I'm not one to really care what they want in my personal relationships. I have this thing where I don't like being told what I can't and can do. I like to figure it out myself if it's right or wrong. I also want to let everyone know that YOUR PARENTS ARE NOT ALWAYS RIGHT, ESPECIALLY ASIAN PARENTS, LOL! I'm not saying to rebel, but the fact is they aren't of the same generation as we are.
Were you always interested in dating someone from a different culture?
Elyse: Honestly, it just naturally happened when I started dating seriously. But after my first Asian boyfriend, I found the Caucasian guys I was interested in dating to be less open and less interested in trying new things, new foods and experiences. Especially with food, for example guacamole, they wouldn't even try, and I consider that to be a pretty normal food. I honestly found Caucasian guys to be boring and was disappointed in the lack of gastronomic exploration! Truly this cannot be said for all Caucasian males, but these were my experiences. Luckily, I found someone who loves to eat as much as I do and I am so happy!
Would I have dated someone else other than from an Asian culture? I think so, I wouldn't have any reservations in dating someone else if I found them attractive or had similar interests. But I naturally lean towards the Asian population perhaps due to the much larger population within my city. But this is all speculation.
Allen: I was always interested in dating someone from a different culture. I started dating in my early 20's so It was during my time in college when I discovered a lot of things about myself, met more people, became confident and just more "me". I think I'm very similar to my wife, that I was very picky about the girls I dated, they had to share some of the main things I really enjoyed, BUT at the same time I knew I wanted to date someone from a different culture because I wouldn't be eating the same foods all the time haha!
Do you want to visit the country your partner is from and if you have, what was it like?
Elyse: Allen was born in Canada as a first generation Chinese-Canadian or Canadian born Chinese (CBC) as they are typically called. His parents lived in Vietnam and I think I would like to visit one day. However it is not high on the priority list, mainly because Allen has never taken a particular interest himself.
Allen: Similar to my wife's answer, she is of German descent, but was born in Canada. I would absolutely LOVE to visit Germany. I have family there actually.
What were the things you had to adapt to, while dating someone from a different culture?

Elyse: After dating a couple of Asian guys prior to Allen, I kind of knew what to expect. I understood that Asian families take care of each other and can make huge sacrifices for family members; which I saw time and again with previous boyfriends, Allen was no exception.
Allen: The little things really. But im very observant so I adapt quickly and catch on fast. Mainly just little small behaviors, manners, table manners when you are visiting family, the dynamics are VERY different from my own culture. But like i said before im very observant so in a way, I can relate most of these things to my own culture. Also In my past relationship, I've also experienced racism from my ex-girlfriend's family. Wasn't something that was easy to adapt to.
Who wins most arguments in your relationship?
Elyse: Allen has a stubborn streak and I let him "win" a lot of arguments because I honestly don't care enough to argue over ridiculous things. But it doesn't mean that I think he is right! I just have learned to let it go. But if I know I am right, I will insist upon it until he admits that I am. I have to win some arguments too! You could say we are both stubborn, we are both born in the year of the Ox after all.
Allen: Im stubborn. I have a tendency to always prove things. It's how my mind functions. Really though I know it's probably something really petty or ridiculous. I also have a short temper, I've learned to just cool off and clear my head before talking about anything. But something that I always keep in mind when we argue is it doesn't matter what the argument is about, it's about figuring out how to solve it. I am a designer after all. But Elyse lets me win. I know she does. LOL.
What is your dream vacation together?
Elyse: Travelling to and around Japan. We are actually in the process of planning a trip to Japan in 2020, since we didn't take a honeymoon in 2018 when we got married to spend money on a new house. But truly going anywhere with Allen would be fun as long as we get to try all the food!
Allen: What my wife said. Food. All the food.
What is the sweetest/cutest thing about your partner?
Elyse: Allen always goes out of his way to take care of me in various ways. If he's off work on a typical work day, he will still drive me to my work instead of sleeping in. If I've forgotten my lunch, he will come to my work to deliver it and we will eat lunch together. With Allen I know he will always be there for me.
Allen: That we have actual couples telepathy. Also when she copies some of the behavioral things I do, I think its cute. I am so very proud of her for being a lot more adventurous than the average girl.
Elyse and Allen are an AMWF couple from Canada. You can follow them on Instagram
here
.
If you would like to participate in a Q&A on our site, please contact us at hello@greenteacoffeedate.com.
*The above post is owned by Green Tea and Coffee and may not be republished or copied without consent from us.
Tags:
amwf
culture
dating
interracial
love
love story