AMWF Couple Q & A: Sandra and David
How did you meet?
Sandra: We met through a language exchange app. I started studying Chinese at uni and I wanted to meet people who could also speak English in order to help me! David messaged me, and we started chatting and using Skype almost daily. After 4 months, I decided to ask him if it was ok for me to go visit him to Singapore, since I thought it would be a cool experience to travel on my own for the first time, get to know him and also, practice my English and Chinese skills! I asked my mom if she allowed me, and at first she called me crazy but then she agreed, so I bought a ticket and I spent two amazing weeks during my summer holidays in Singapore with David, getting to know him, meeting his family and friends, and it was super exciting! From the first moment it felt like we knew each other for so long and we just clicked, then we decided we should give a try to a LDR.
David: We met on a language exchange website. I was serving the mandatory army service in Singapore and one night, I got bored and I thought, "I want to learn a new language." I was looking to pick up Korean (due to the Kpop trend back then) or Spanish (always loved this language since a young age). We found one another's profile because she was interested in learning Chinese and English. We started connecting, one day closer than the previous. Soon we started to Skype on a regular basis. Eventually we realised we really liked one another and we felt a bond just from how we interacted with one another! Months later, Sandra later became the crazier of the two and booked a trip to Singapore, and the rest was history!!
If your relationship began as a long distance one, what was it like to create a life together in the same place?
Sandra: Yes, we had LDR during 2,5 years. David was brave enough to leave his job and start from 0 in Spain. We had spent looong periods of time together before, because everytime we visited each other's countries we would at least spend a month together and travel around, so we kinda knew each other's living habits from the beginning. Of course, we still had to adapt to daily chores like, who's gonna cook, who's gonna clean, etc, but we are a good team and we managed to split all these tasks in a fair way. When we had LDR it was tough, sometimes I didn't want to go to sleep knowing that we had limited time together and I wanted to make the most of those days. Now it is just so nice to know that the other person is not leaving and we have the rest of our lives to enjoy each other's company. No more goodbyes, for me that's the most important, and I feel very thankful everyday from the decision David made to move to Spain.
David: Our LDR lasted a good 2 years and they were very challenging times. I knew I had to move, and I finally took the leap of faith on Sept 2016, and we have been living together in Spain for 4 years! It was a pretty tough start as we moved right in with one another and we were getting used to one another's living habits. Eventually, we made it work and never looked back since! We bought an apartment together few months ago, so I guess that pretty sums up the life we created living together in the same place!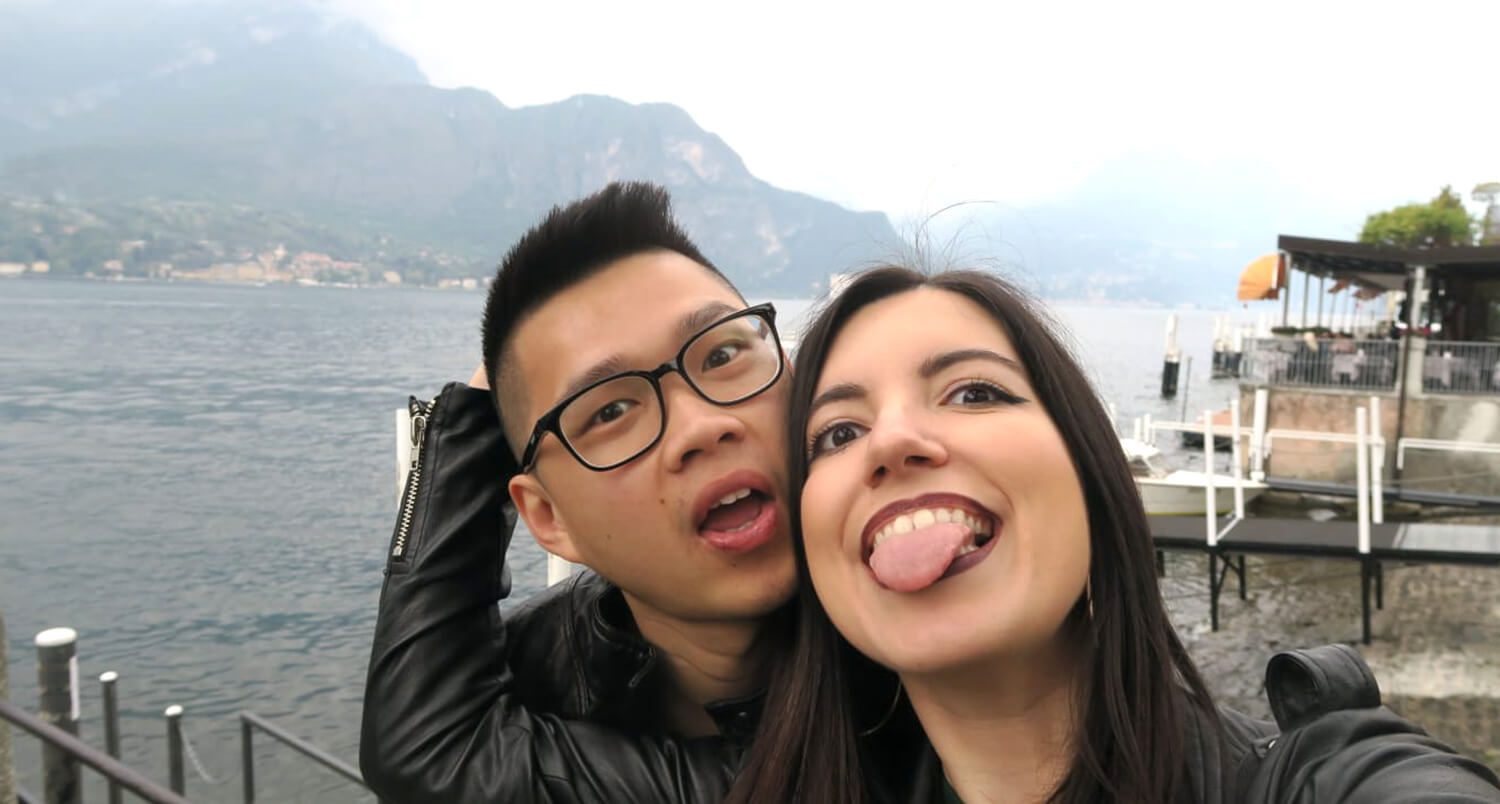 What was it like to tell your friends and family about meeting someone from a different culture?
Sandra: My family and friends are all very open-minded and they never thought anything was wrong about it. My mom was scared at the beginning, not because David is from a different culture, but more about how we were apart and how I could suffer about it, not being able to see each other in a long time, etc. I think they needed to meet David in person to know that we were pretty serious about our relationship, and when he came to visit me during December that year, all of my family were very excited to meet him. I believe they made him feel part of the family too. They even prepared gifts for him since it was his first Christmas celebration! I was also very excited to introduce him to my little nephews and how eventually they started calling him "Tío David" (uncle David).
David: My closest friends were pretty supportive right from the beginning. My mum was a little protective at the beginning because she had the perception that a foreigner that "comes and visit" at such circumstance could be a drug smuggler! Took awhile to convince her that I knew what I was doing and eventually when Sandra and my family met, everything clicked easily and we got along super well!
What did you do on your first date?
Sandra: Well, I guess our first official date was the day after I reached Singapore the first time. We had breakfast together at a cafe near the hotel I was staying in, and I spilled my coffee all over the table because I was very nervous. Also, back then, I didn't even really like coffee, but I just didn't know what to order since it was my first day and I still didn't know what the locals drink, haha. Also, we went to visit Marina Bay Sands, one of the most iconic buildings in modern Singapore. We had lots of fun and seeing the pictures now makes me smile since I feel that we were so innocent and now, 6,5 years later we are living together in our own house, that's crazy.
David: That's such a long time ago! But if it was the first date when we met one another, it has to be the evening she landed in Singapore the first time. We just took it easy, hopped on a bus ride and had some really good seafood dinner, getting to know one another even better.
Were you always interested in dating someone from a different culture?
Sandra: I believe I am a very open-minded person so it doesn't surprise me that this eventually happened. After all we are all human, and I think what's the most important is that our personalities connect. We really did from the beginning, we have the same kind of stupid humour and laugh at the same stuff. We enjoy our time doing the same kind of things so we complement each other really well.
David: I have always been very open minded in everything, and that includes dating! Where I come from, it is a multicultural country and I guess it was pretty seamless for me to get along with everyone. Of course, my curiosity peaked when I met Sandra because she was the first Spanish I ever knew back then! I definitely did not expect to be where I am right now but I am thankful for what had happened in my life so far.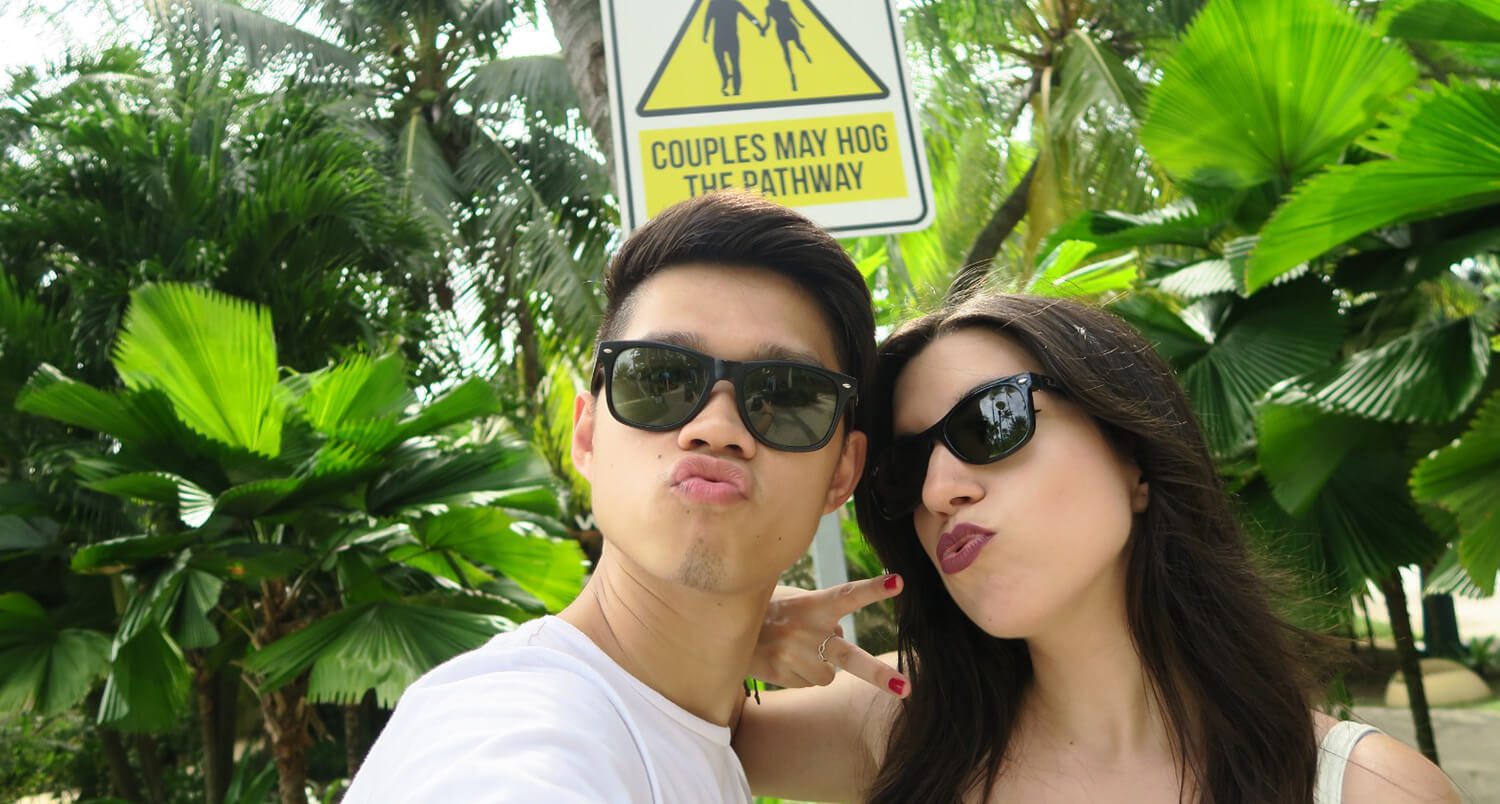 Have you each learned how to cook each other's culture's cuisines?
Sandra: Well, I have always really liked to cook and learn new recipes, so it was a discovery for me to bring asian ingredients into my kitchen. It is true that when I was still living with my mom, in our household we have always been very open about cooking international dishes. My mom loves to try different recipes and I think I inherited that from her, haha. I started trying to include traditional Indonesian ingredients especially since David was born there and he misses the food. At the beginning maybe it was not so nice, but now I think I'm doing better, no? It took me almost 4 years but I'm very proud of my skills! My rendang is quite good, no? (I hope he says yes).
David: I'm not the best in the kitchen, and I've never actually attempted any Spanish dish. Well, I attempted tortilla de patata once and I don't think it was half bad!! Sandra is more creative in that field and definitely does South East Asian food better!
Do you want to visit the country your partner is from and if you have, what was it like?
Sandra: I have! Well, if you read the previous questions I guess you can tell by now haha. I have been to Singapore, if I'm not wrong… around 7-8 times. Also, David's family is originally from Indonesia, and I was there once too. I love Singapore and Indonesia; Singapore is very modern but still has the essence of old buildings like in Chinatown, and I really like that vibe. I think that when you go to a place, you shouldn't just visit the most famous places all tourists go. You should go deeper than that and try to explore as much as possible. I am very thankful that I got to spend time with him and his family in their house, learning to cook with his mom, learning their traditions, where the locals eat, where the locals buy. I love that feeling of being part of the culture. About Indonesia I also loved how real it is, we visited his family town, and getting to learn about his roots and where he grew up, visiting his school, the places he would eat at, I felt honoured. His family in Indonesia were also very accepting, and I was very surprised as for his grandpa it was his first time meeting an European and he still tried to talk to me in English. I'm very thankful about their reception in every occasion.
David: The first time I came to Spain, it was a vacation for about a month. Everything was so culturally rich and full of many beautiful landscapes with historical values! I am a fan of medieval stuff, and Spain checked all my list for sure. This country definitely left a mark on me because it is so different from where I grew up. Moved here in 2016, and never once regretted it!

What were the things you had to adapt to, while dating someone from a different culture?
Sandra: Well, it is true that I am a very emotional and loving person, it is not just something implicit in my culture but also my personality, so I'm not afraid to show love in public, which it seems to be still a bit of a taboo in Singapore. Sometimes I had to control myself, haha.

Apart from that, maybe, there were some traditions we have to follow that I didn't know about. As an example I remember that during my first Chinese New Year in Singapore, when elders give you a red packet, at the beginning I would just innocently take it with one hand, but then David showed me that the respectful way had to be with both hands. I guess people cannot really get mad or judge me since these are things that I never learned before, but nowadays I think I know more, and I want to respect these kind of traditions since I'm part of his family now.
David: The Spanish culture felt like a whole new world for me. Spanish people are generally more emotional and expressive. The way they greet (two cheek kisses), talk, hand gestures and everything was a little too much for me at the beginning. It eventually grew into me and I got used to it. There were also more importance to certain holidays that they celebrate here in Spain that I found really interesting. Giving them the respect and appreciate the cultural gap and just go with the flow definitely helped to make it easier. Learning something new everyday!



"Hello Everyone!

This is David & Sandra, from Singapore 🇸🇬 and Spain 🇪🇸.

We met through an online language exchange platform almost 7 years ago. That same year, Sandra decided to travel to Singapore to meet David and we have been together since then! The first 2,5 years we were on a LDR until David took a step further and moved to Spain back in Sept 2016. We've been living together for more than 4 years now and recently we bought our first house! So you could say that distance had nothing on us 🥰

You can see more of our day to day life in our instagram @queshiok, and, we also have a YouTube channel called "Que Shiok", in which we discuss topics such as AMWF and international couples misconceptions, apart from recording challenges, recipes, Q&A's and more!"


If you would like to participate in a Q&A on our site, please contact us at hello@greenteacoffeedate.com.

*The above post is owned by Green Tea and Coffee and may not be republished or copied without consent from us.
Tags:
amwf
ldr
long distance
relationships