Hannah and Nozomu | part 1
Short story by Anh H Pham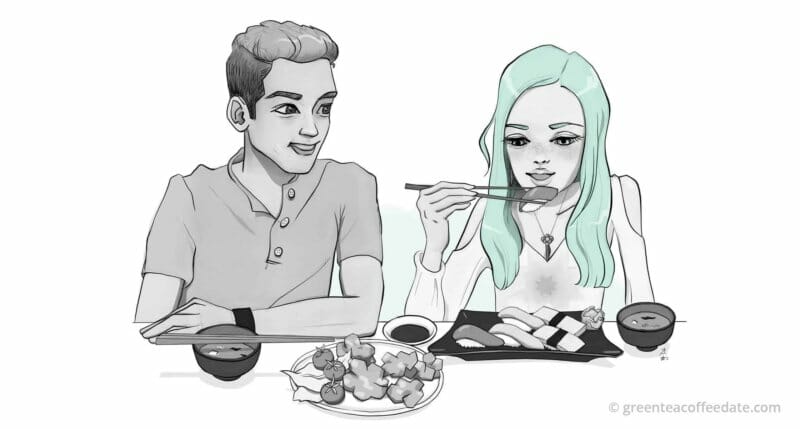 ---
It had been a month of many firsts for Hannah; her first trip on an airplane, her first time living on her own, and today would be her first college class. After growing up on her parents' cattle ranch in Ten Sleep, Wyoming, a sleepy little western town with around 300 people nestled at the base of the Big Horn Mountains, Los Angeles was a new world to explore, but her first week at school yielded few adventures. Like most freshmen at UCLA, she arrived a week earlier to move into her dorm. Her parents came along to help with the move, but they returned home after a few days to remove the bulls from the cow herds and prepare the calves for weaning. She attended a few mixers and school-organized events but had felt a bit self-conscious. At home, she was just Hannah, the freckle-faced girl who had always worn her long sandy brown hair in a ponytail at school, or under a tan brimmed gambler while working on the ranch. Here, she had a strange accent, and wore offbeat clothing. She had always been an introvert who read westerns and rock climbed on the weekends and summers by herself. But today, she was determined to make friends.
Hannah awoke Thursday morning to the sight of her roommate's unpacked cardboard boxes on the bed across her dorm room. Like every morning before, Hannah had the room all to herself. The only conversation the two had shared was while her roommate had dropped off those boxes while Hannah was hanging up pictures of her family and her horse Youden. She had gotten accustomed to the fact that her roommate, who she had hoped would be her guide to her new home, wouldn't be around very much.
Hannah looked through her closet and stared at the myriad of flannel, cotton t-shirts, and jeans until finally pushing the mass aside to view a summer dress her mother had bought her in Casper on her 18th birthday. It was sky blue and had Arapaho star designs that filled the spectrum from mountain ash berry red to sunset orange to Indian grass yellow with tan frayed leather trim and seed beads. Hannah pulled a cardboard box from the top of the shelf, placing it on her bed. Inside were a turquoise and copper necklace with matching earrings. She arranged the jewelry on her bed next to the dress, took her towel, and went down the hall to shower.
Hannah returned to her room realizing she had lost her keys. She rushed back down the hall searching the floor on the way to the common share bathroom, but her keys were nowhere to be found. They weren't on the bathroom counters or the tiled floor. She walked back towards her room, when a stranger approached.
"Is everything ok?" he asked noticing the worry plastered on Hannah's face as well as the freckles that speckled her cheekbones.
"I think I might have left my keys in my room. I'm locked out." Hannah had forgotten that the door to her dorm room automatically locked.
"Oh, it's ok. I can help you with that. I'm the floor R.A.," Nozomu said. "What room are you in?"
"Thank you so much. I was worried I was going to be late for class. I'm in 411."
"What's your name?"
"Hannah Stuart."
"Ok, I'll meet you there in a minute. You have your student I.D. in your room, right?"
"Yeah."
Five minutes later, Nozomu let Hannah back into her room, and checked her identification before leaving. She thanked the young man and quickly prepared for class. She had decided to wear dress, put on the jewelry and some sneakers grabbed her bookbag and purse and left after making sure she had her keys.
Hannah ran down the hallway. The elevator had begun to close just as she turned the corner. Disappointment and the thought of not on my first day swam through her mind when a hand reach in between the closing doors. Relief.
"Thank you so much," she said. It was the R.A. who had helped her earlier.
"No problem. Seems like I saved you twice today. Guess you owe me now. My name's Nozomu," he said extending his hand.
"Hannah, nice to meet you," she said reaching for his hand. Yeah, I guess I do. I really don't want to be late for my first class today. It would just… Well it would just be the perfect way to end the week.
"Rough first week?"
"Just not what I had thought it'd be like," she said as the elevator doors opened to the ground floor.
"I'm sure it'll get better."
"Well thanks again, for this morning and all.
"How about dinner?"
Hannah was taken aback. "Mmmm"
"Well, you did say you owed me. Unless you have plans already?"
"Yeah. I guess I did." Of course Hannah had no plans. She hadn't really had any plans the entire week. "Yeah. Dinner would be nice."
"Great. How about I pick you up at 7?"
"Sure."
"Room 411 right?"
"Yes," Hannah said smiling. She rushed off to her first class that was on the other side of campus, not really thinking about the plans she had just made but concentrating on not getting lost. She had taken the path a few days earlier to accustom herself to the campus. It would serve her well this morning.
Hannah came home and threw her backpack on her desk and threw herself onto her bed. Her first day of classes went as well as could be expected. Her English professor seemed engaging and she already knew she would hate her Precalculus class before even stepping foot into the door, but it was a requirement. She laid staring at the ceiling deciding whether she should change for dinner or not. What's dinner anyways? I mean, is this a date? Two friends hanging out? Hannah hadn't dated much in high school. She had gone on dates, but between work on the farm, studying, and her hobbies, there wasn't much time for boys. All she knew was that she was a bit tired from the events of the day, and she slowly nodded off.
Hannah awoke to a series of knocks on the door. She jolted up and looked at the clock, 7 o'clock. Her decision whether to change before dinner had been made for her. She checked herself out in the mirror, running her hands through her hair and down her dress, then opened the door.
"Hey, sorry I fell asleep," Hannah said looking a bit disheveled.
"Oh. Should we do this another time?"
"No, no. I just need a few minutes. Can we meet downstairs in ten?"
"Sure. I'll see you in a bit then."
Hannah closed the door and went to her full-length mirror. She decided she didn't want to keep Nozomu waiting and would just brush her teeth before leaving.
Never had Hannah felt so awkward during the car ride, and she had no idea why. She tried to make conversation, but stumbled thinking of a subject other than the small talk they had about their backgrounds on the walk to the car.
She stared out the window into the bright lights of the passing cars and the buildings that lined Wilshire Boulevard.
"So, what made you choose UCLA?"
"I knew I wanted to get out of Wyoming. I was deciding between UCLA, NYU, and Texas, but after some online research, I just felt L.A. had everything I wanted. There stuff to do in the city, but there's mountains and beaches too."
"Yeah, it does have everything I guess. Oh, we're here." Nozomu found a open parking spot in an otherwise full lot. The restaurant was one of many Japanese establishments on Sawtelle Street. There was a Japanese supermarket, stores, a number of restaurants, bars including a karaoke bar.
They sat down after being seated by the hostess, Nozomu pulled out Hannah's chair for her. Maybe this is a date. The Blue Marlin was a casual Japanese restaurant that didn't have one specialty. Instead it offered a wide selection such as yakitori, tempura, tonkatsu, ramen, udon, yakisoba, and of course affordable sushi to cater to nearby UCLA students.
"I hope you like Japanese food."
"To be honest, I've only been to one Japanese restaurant back in Casper. My friend told me it wasn't authentic though. Something about it being owned by Korean people.
"Well this one is owned by Japanese people," he said with a smile.
"May I ask, are you Japanese?"
"My dad is. My mom is Vietnamese. So, I'm half."
"Can you speak Japanese or Vietnamese?"
"Yeah, a bit of both. I mean, enough to order in restaurants," Nozomu said smiling.
She smiled in return. "Wow, there's so much to choose from. What's good here?"
I've never had anything bad here. What do you feel like?
"Hmm, I can't really decide," she said scanning the eight-page menu. "I wish they had pictures." This made Nozomu laugh.
"Why don't I just order a bunch of stuff and we can share."
"Sure, but can we get some sushi, I've always wanted to try it."
"You've never tried sushi?" he asked genuinely shocked.
"Nope. Like I said, I haven't eaten a lot of Japanese food."
Nozomu raised his hand to get the attention of the waitress, "Sumimasen," he said be for ordering two bowls of miso soup, chicken karaage, beef yakisoba, and nigiri sushi. As they waited for the food to arrive, they chatted, asked each other questions, the normal first date exchange. Nozomu had lived his entire life in Orange County, California. He spent his summers with his grandparents who lived in Japan. He was very close to his family, but wanted a little space, so he chose a college that was far enough where he wouldn't be able to commute, but close enough where he could visit weekends. Hannah told Nozomu how she had also lived her entire life in the same town, but her town was much smaller.
"Ice cream?" asked Nozomu.
"Yeah. The most popular hangout spot in my town was Crazy Woman Café and Ice Cream. I shit you not."
"I'm sure you'll find a lot more to do around here."
"Well, there is one thing I'll miss, climbing."
"Climbing?"
"Yeah, I mountain climb."
"Wow. I've always wanted to try that."
"You should totally do it. It's just. I mean, it's just everything."
"Well maybe we can go together sometime."
"Yeah, I'd like that. Oh, the food is here."
First to come out was the miso soup. Hannah searched for a spoon before looking up at Nozomu as he took the bowl in his hands and brought it to his lips. She did as he did. Then came the chicken karaage.
"Mmmm. It's almost like fried chicken, but not quite," she said.
Nozomu just smiled in response. He pointed to the tuna. "This is maguro, tuna. Hamachi, yellowtail. Anago, eel.
Hannah put down the fork she had been using to eat the chicken and picked up the chopsticks. She fumbled with them, until one dropped onto the table.
"Let me help you," Nozomu gently positioned her fingers and placed each stick between her slim fingers. "Hold it like this. When you want to grab something, just move these fingers, like this."
Hannah moved her hand towards the sushi, trying her hardest not to let the chopsticks move out of place. She moved one set of fingers as Nozomu had shown her and picked up a piece of the tuna and rice and smiling like an eager child who had finally grabbed that ever elusive fluffy stuffed duck with the four metal-pronged-claw in a crane arcade game. Nozomu watched eagerly as she slowly lowered the sushi, then brought it to her mouth. Then both laughed at the clump of fish and rice fell onto the laminated table top.
"Ah, So close!" Hannah said before using her fork to stab the fish and placing into her mouth. "Still good."
"That's another way to do it," Nozomu said with a wide grin.
The two spent the night laughing at and with each other; sharing personal stories from their childhood while sharing green tea ice cream. It had seemed as though what Hannah was hoping would be just night out to lift her spirits was turning into something more.
The drive back towards school was much less awkward. Hannah told Nozomu all about climbing, he noticed she was obviously passionate about. She continued to talk about climbing in the elevator up to the fourth floor and up to her door.
"I really had fun tonight. We should do this again."
Nozomu was relieved Hannah had had a good time. He was very attracted to her, not only her natural beauty, but also the fact that she was not like any other girl he had ever met. "I had a lot of fun too. Maybe we can hang out next Saturday?"
"Yeah, I'd like that," Hannah said before giving him a hug, saying goodnight, and closing the door.
After getting ready for bed, Hannah laid her head on her pillow with her copy of Lions of the West. She had had a tiresome yet adventurous first day of school. It had been challenging, yet she survived it and had a wonderful time. As she turned the page to the part of the book where the settlers from all over the country traveled to California looking for riches in the golden hills and rivers of the Sacramento Valley, her eyelids grew heavy, and as they fell, so did Hannah's anxiety and worries. She slept. She was home.
End of part 1.

About Author:
Anh H Pham is a writer from California currently living in New York. He writes both long and short fiction, and sometimes poetry.

Tags:
amwf
interracial
japanese
love story
relationships
short story